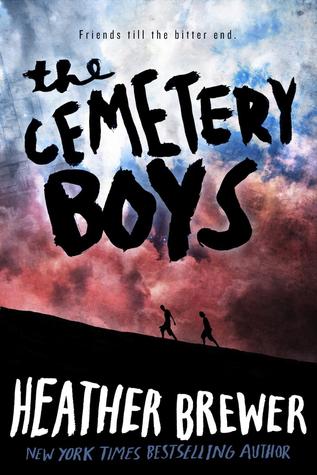 The Cemetery Boys
by
Heather Brewer
My rating:
5 of 5 stars
Auntie Heather's first all-new story in three years was one I was dying to read for a very long time. Seeing it at last, I was far from disappointed - although I was pretty devastated. Between the sad circumstances of Stephen's move to Spencer, and the shocking ending that I totally did not see coming (well, not totally, only 'cause the first major villain is given away in the prologue, but the second, not so much), it's safe to say that this is Auntie Heather's darkest tale yet.
Highlights include:
* The general vibe of it all - Bates Motel meets Stand by Me. The former does get referenced (or, at least, Psycho does), and the latter is almost certainly intentional because Auntie Heather pretty much did this In The Style Of Stephen King. The acknowledgments say it all, right down to the "With love from your Constant Reader." And if that wasn't a dead giveaway, the character of Martha is one of King's favorite stock characters - the hyper-religious bat out of hell.
* Auntie Heather's typical subtle pop-culture references strike again on page 106, in which the song being mentioned is pretty easy to pick out as that new classic, "My Songs Know What You Did In The Dark."
* In every way, this is Auntie Heather's most R-rated story yet. In addition to the freaky, sometimes quite violent horror-show-ness, there's no dancing around the sex and profanity this time around. This book is definitely not gonna be in any library younger than high school.
* And as for Stephen and Cara (whose names make me wonder if Auntie Heather watched The Tomorrow People), they're actually a good example of insta-love done sort of right. Not to the same degree as Scott and Allison, but...
there was definitely something fishy about it. Of course, I didn't realize just how fishy until it was too late and I was driven to tears. And to think Cara still misses him? There's so much potential for a sequel here...
So this one was one of my better reading days this year. I'm sure by the time 2015 ends, this story will still be on my Top 5 of 2015 list. Especially with Lady Midnight being delayed till next spring...
View all my reviews
NOTE: For some reason, Goodreads isn't cooperating with my blog anymore - I tell it to post my reviews to my blog, and nothing happens. Why, I'm not sure. But until then, I'll just have to manually post my reviews.