The Blood Between Us
by
Zac Brewer
My rating:
5 of 5 stars
I've never read a book by Uncle Zac that I didn't like, and
The Blood Between Us
is no exception. It's a dark and raw book, and very matter-of-fact and honest about what it is. In coffee terms, it's a cup of espresso - a tiny but potent shot or two right to the veins. It reminded me a lot of James Patterson's
Confessions of a Murder Suspect
, especially with the familial bad blood (insert the Bastille song here) and the mysteriously deceased scientist parents. However, this mystery wasn't quite the driving force that Patterson's was, for which I'm grateful because it allows for this short but sweet book to delve into some interesting character development. Two characters, however, stood out from all the rest.
Let's start with Adrien. He's my second-favorite of Uncle Zac's protagonists thus far - sorry, Adrien, but Vlad Tod will always hold a special place in my heart. (And speaking of Vlad, I'd like to think this book and CoVT take place in the same universe, if only because of the
Psycho Slasher Chainsaw Guy From Hell
movies these books have in common.) I see a lot of myself in Adrien, though - particularly his science-geek side (which, sadly, I've mostly abandoned since I left high school, the better to concentrate on my ongoing supernatural-writing efforts) and his lack of care for his appearance, as he prefers to dress casually and in unkempt threads. Hell, I'm sure I'll be taking another page out of his book and wearing my current pair of Chucks until they're really most sincerely dead. Why? Because we're cool like that, that's why.
And let's not forget Josh. I swear, in his first scene when he's introduced while working the school's radio station, he poses a serious threat to Peter Parker's status as my secret twin.
Seriously. I first did a double take because I've written my own MC's best friend establishing his personality by getting into a DJ booth to play music tailor-made to attract his own love interest. And when Josh name-drops Panic! At The Disco - the same band I wrote into my DJ-booth scene! - among so many other great bands, I finally realized why I've had so much trouble getting my book published.
My book and I just aren't worthy. *bows before Uncle Zac*
But outside the realm of cool characters and "I understood that reference" moments, there were more than a few moments that made me go roughly like this: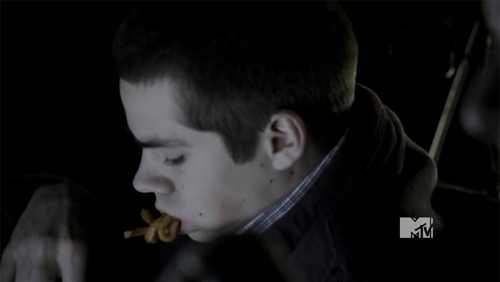 Namely, pretty much every word out of Grace's mouth. No wonder Adrien leaves her the first chance he gets. Then there's a certain kiss scene, one I kinda saw coming only because of the way early publicity for this book highlighted the "label" theme - and while we're at it, I have to say this book has perhaps the best depiction I've ever seen of an adolescent male figuring out his sexuality. It deals less with Adrien's confusion about himself (something I could have done with a little less of at Adrien's age), and more in his acceptance that he's not done determining his self-identity. And of course, there's the climax, perhaps the biggest shocker of a twist in Uncle Zac's history. No spoilers, of course, but let's just say it made me drop an F-bomb in full view of my open bedroom window. Hope nobody on the street heard that, not that it's likely with the construction next door, haha...
And here I thought Uncle Zac had a tough act to follow after
The Cemetery Boys
. Nope.
The Blood Between Us
has raised the bar so much higher.
View all my reviews