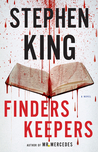 Finders Keepers
by
Stephen King
My rating:
5 of 5 stars
A noticeable improvement over its predecessor, because it's largely a standalone book that tells its own, more personal story, rather than the all-over-the-place madness of Mr. Mercedes. However, it's not entirely standalone - if not for the events of Mr. Mercedes, this book probably wouldn't happen as it does. And it seems that, with the epilogue, we're setting up a third book that'll be more dependent on Book 1 than on Book 2, in a way similar to The Dark Knight Saga.
And as for the story in this book - even the dust jacket immediately compares it to Misery, but this one does a much better job. I couldn't stand Misery at all - I barely made it a hundred pages into that one. But this story was much better able to keep me interested in the tale of the crazed fan, especially since he kills his favorite author off right in the prologue, rather than spend an entire book torturing him like in Misery.
Pete was a favorite character of mine too, mostly because of the fact that, like me, he intends to major in English and also has an interest in libraries. I'm also the opposite of Pete, though, in that I'm taking the major to bolster my career as a writer, whereas Pete doesn't think he could be a writer himself.
I hope the third book manages to ride the high of this one - especially since Mr. King is setting up a possible paranormal spin, based on the epilogue I just finished reading. :)
View all my reviews