2015 has been a great year in every segment of pop-culture to which I'm closely in tune. It's hard to pick a Top 5 in every category, but pick them I have. After careful consideration, Pinecones, I have my favorites of the year - the winners of the first-ever Pinecone Awards!
Let's get started with the most important category of all to writers like me...
BOOKS:
Honorable Mentions: More Happy Than Not, Career of Evil, The Sword of Summer, The Fate of Ten, Queen of Shadows
5.
Although my reading and writing tastes largely run towards YA - gotta know what's good among the competition, am I right? - I don't exclusively read and/or write in this age group. And among this year's bumper crop of adult-oriented books, the last one I've read to date has stood out the most for its blood-curdling horror, Lovecraft-country setting, and some of the most delicious fictional food not cooked by ol' Hannibal the Cannibal. I give you Douglas Preston and Lincoln Child's fifteenth Agent Pendergast novel,
Crimson Shore.
Oysters, anyone?
4.
And now for the first in my favorite new YA titles of the year. This one was a kick-ass debut that began the year as one of the most anticipated new releases, and I'm fully convinced that it was well worth the hype, as are many of my fellow readers and writers. It helps that its author, Victoria Aveyard, has excellent taste in just about everything under the sun, so you know she's got great influences going into her take on fantasy-dystopian, which has already expanded from a planned trilogy to at least a tetralogy. I give you...
Red Queen.
Watch that tiara drip. Watch it, I say!
3.
Also riding high on the fantasy-dystopian wave is Marissa Meyer, who's spent the last several years deftly interweaving several fairy tales into a
Sailor Moon
-inspired futuristic magic-and-science setting. Think
Once Upon A Time
but better, because everything's better with cyborgs and evil Lunar fae. It's a shame that this series is now over, except for a final release of all the exclusive e-novellas in print, but stars above, did
Winter
end
The Lunar Chronicles
in epic, intense, action-packed fashion or what?
Behold the poisoned, purple-leafed apple!
2.
Another magnificent series conclusion this year came to us from literature's finest vintage-photo collector, Ransom Riggs.
Library of Souls
finished the
Miss Peregrine
trilogy with twists, turns, and feels aplenty - especially in its final fifty pages or so. But for fun factor, there's no better moment than the scene where Fleetwood Mac's "You Make Loving Fun" makes an unexpected cameo appearance. Now, all we have to do is wait for the release of the long-awaited Tim Burton-directed movie this time next year.
#StayPeculiar, my friends.
1.
And finally, this year's most magnificent book. Following in the footsteps of
Breaking Bad
, this book turns its good guy into a bad guy, and until the very last minute, you can't help but root for her anyway, even though you know that's not gonna last. Marie Lu outdid herself this year, Pinecones, in
The Rose Society.
Sorry, mi Adelinetta, but...
I love you, don't hate me!
Honorable Mentions: Chappie, Kingsman: The Secret Service, Jurassic World, Goosebumps, Mission: Impossible - Rogue Nation
5.
The summer movie season this year...some might say it began with the unexpected smash-hit success of
Furious 7.
But we all know the party don't start till Stark walks in, and this year's Marvel May masterpiece was no exception. It's no
Amazing Spider-Man 2
in my eyes, but there's no denying the balls-to-the-wall awesomeness that is
Age of Ultron.
"There are...no strings on me..."
4.
Topping
Age of Ultron
, though, was the second major Marvel movie of the year. It was smaller and more standalone, and therefore more accessible. And, even better, it jacked up the laughs in the vein of
Guardians of the Galaxy
- always a plus, yeah? Say hello to
Ant-Man!
"How do I shr-WHOAHOLYSHIT!"
3.
With a powerful message of following your dreams and doing good in the world, it's no wonder Disney's big live-action project under their own name flopped at the box office. People are just too cynical these days, am I right or am I right? Still, I'm convinced that one day,
Tomorrowland
will be well and truly Vindicated by History.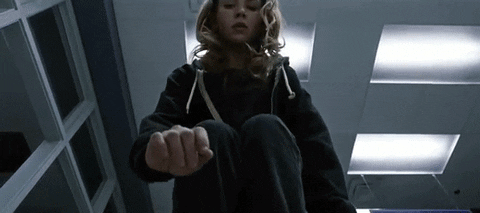 Should I be embarrassed that I have the threads to cosplay as a male Casey?
Signs point to no.
2.
Faithfulness to the source material is, normally, a must for any book-to-film adaptation. For every rule, though, there's an exception. This exception is
The Scorch Trials.
The movie tells a more intense, high-action story than the original novel, and the stunning visuals are only an improvement.
Tommy's going to use that electric tazer rifle, you know.
1.
And of course the best movie of the year...
The Force Awakens.
'Nuff said.
From the movie's best scene. :D
Honorable Mentions: Teen Wolf, Under The Dome, Survivor: Second Chance, Limitless, Mr. Robot
5.
One of the most-beloved shows out there right now is rife with flaws - chief among them, an occasional tendency to lapse into sluggish, poor pacing. But when it overcomes those flaws, even for just one episode...they go all-out on the high-potential zombie apocalypse we all know
The Walking Dead
truly is.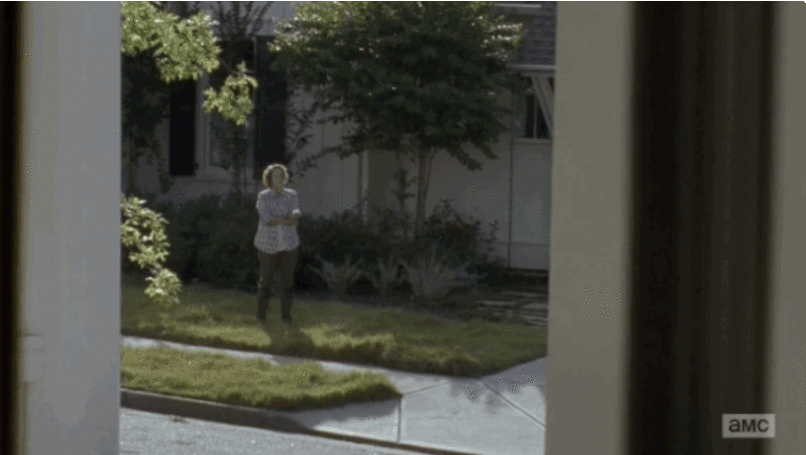 #OMG #WTF #JSS #TWD!
4.
There's only one show on the CW my dad will freely watch with me, which says a lot about the widespread appeal of their most underrated show by far. (Well, maybe
iZombie
, but...yeah, no, I gotta go with this one.) For taking a dark post-apocalypse and getting even more black-hearted and blood-stained, I award the next TV Pinecone to
The 100.
Not unlike The Scorch Trials,
it's an exception to the "must-be-faithful" rule.
3.
Marvel's flagship series continues to impress for most of the year - that is, for 2-3 month chunks each fall and spring now - but when it was on hiatus this year, we had some new material to fill in the time.
Agent Carter
got lower ratings than
Agents of SHIELD,
but it also, deservedly, received greater critical acclaim. The world needs more Hayley Atwell, and this series, further fleshing out the MCU as a more direct sequel to
Captain America: The First Avenger
, is the perfect vehicle for her dazzling acting talents.
But not to those who matter, of course.
2.
On January 6th of this year, America's broadcast airwaves were graced with the presence of two of the most awesome single hours of television ever. One of these was the premiere of the aforementioned
Agent Carter
. And the other was the single most WTF episode of anything that wasn't
Lost
or
Fringe
or
Sherlock.
I'm talking about "If-Then-Else," from the one show that CBS should have absolutely NOT left off the fall schedule this year, because I miss it so much now, as does my dad. I'm talking, of course, about
Person of Interest.
Finch: "It's got a lot on its miiiiiiiind..."
Viewer: Oh crap, here we go again...I cannot handle! :O
1.
But whereas
Person of Interest
jam-packed so much awesome into one episode, my favorite show of 2015 did that for almost every single episode it aired this year. None more so, though, than the fifteenth episode of Season 1, the final moments of which had me positively screaming -
SCREAMING!
- at the screen. A 9.8 on IMDb can't be wrong, can it? Well, "If-Then-Else" beats it out with an official 9.9, but for me, "Out of Time" serves up nothing less than a perfect 10 for
The Flash.
This was just the first taste of the shock and awe to come that night.
5.
For a long time, they've been one of my favorite bands. I've come to expect new material of theirs every three years, so you can imagine my surprise when they resurfaced this year, about 18 months after their
Ghost Stories
album, with the lead single from
A Head Full of Dreams
at long last. With this addicting, Daft-Punk-esque disco-rock number, it's a welcome, positive, and oh-so-life-affirming return from
Coldplay - "Adventure of a Lifetime."
"'Cause you make me feel like I'm alive again!"
4.
Relentlessly stuck in my head more than any other song from the
Smoke + Mirrors
album is this indescribably awesome, genre-defying stomper. And I wouldn't have it any other way. Here it is:
Imagine Dragons, "Gold."
"First comes the blessing of all that you've dreamed
But then come the curses of diamonds and rings..."
3.
It even makes little doggies cry - and we humans are so cruel that we just laugh at her use of a flip phone in the video. For shame.
Adele, "Hello."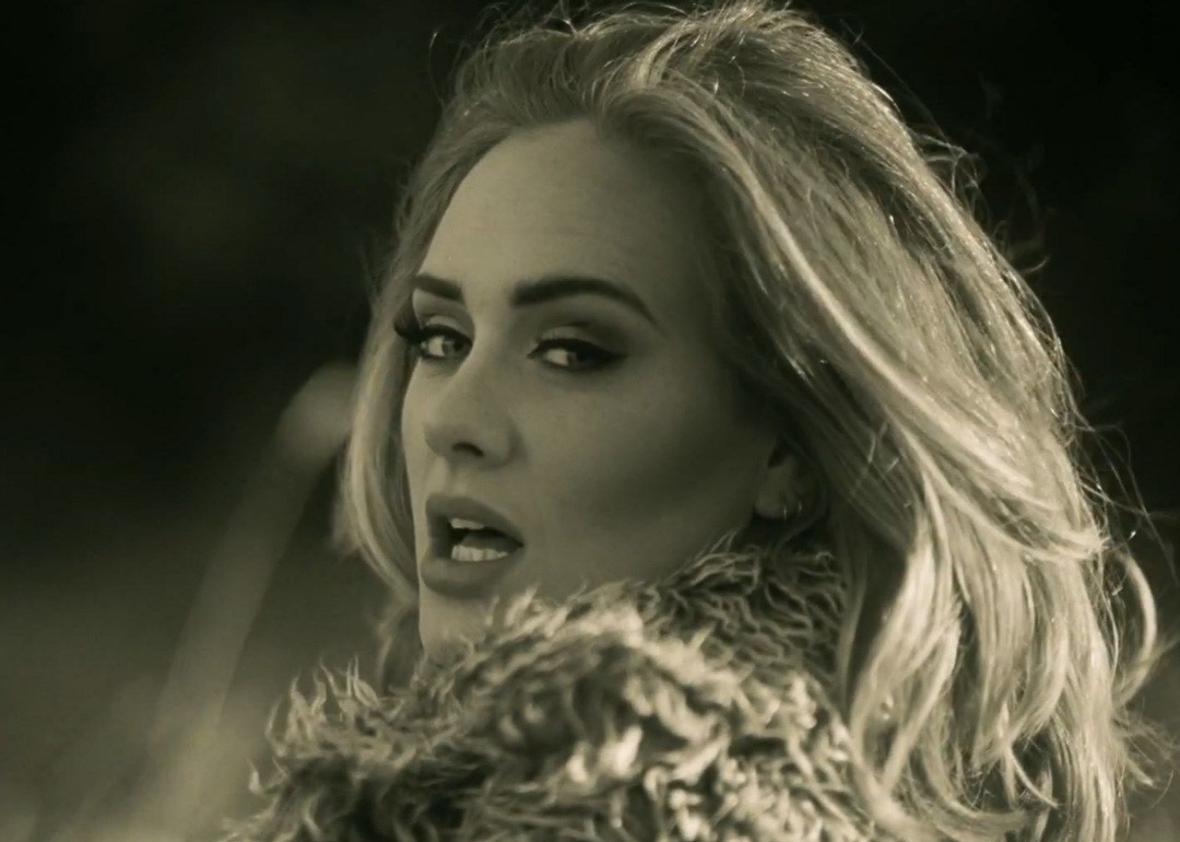 "They say that time's supposed to heal ya,
But I ain't done much healin'."
2.
Thank God this wasn't limited to just being on the
Big Hero 6
soundtrack - that movie's theme song was way too good to not be included on
American Beauty/American Psycho!
Fall Out Boy, "Immortals."
"I'm bad behavior, but I do it in the best way!"
1.
And to round out my list, the most rip-roaring, guitar-shredding, scream-tastic song that didn't make it to the radio - because even Matt Bellamy said it, it was "too offensive." All other songs, move aside for
Muse, "Psycho."
"YOUR ASS BELONGS TO ME NOW!"
And that concludes my list of Pinecone Award winners! Hard to believe 2015's already over...and tomorrow night, we'll be celebrating the start of another year! Here's hoping for 2016 to be an even better year for this world! :D
Till next time, Pinecones...