Illuminae
by
Amie Kaufman
My rating:
5 of 5 stars
MY OFFICIAL ILLUMINAE PLAYLIST:
"No chance for fate, it's unnatural selection
I want the truth!"
-Muse
"Here we go, vertigo
Video vertigo, test for echo
Touch and go, in slow mo
Video vertigo, test for echo..."
-Rush
"Higher, don't let 'em know we're coming
Higher, tiptoe higher..."
-Imagine Dragons
"I don't wanna feel sorry for you
You don't have to make believe it's you..."
-The Cars, "You're All I've Got Tonight"
"Falling down can feel strange
No one remembers your name
You're losing the game
That's the thing about trust..."
-Neon Trees
"Last night, I had a dream about you
In this dream, I'm dancing right beside you..."
-Daft Punk, Digital Love
"How could something so fair be so cruel
When this black sun revolved around you..."
-Death Cab For Cutie
"Shake it like a ladder to the sun
Makes me feel like a madman on the run
Find me never, never far gone
So get your leather, leather, leather on..."
-Yeah Yeah Yeahs, "Zero"
"The world is spinning fast tonight
You can hurt yourself trying to hold on..."
-U2, "Volcano"
"One of these days
Letters are gonna fall from the sky
Telling us all to go free
But until that day I'll find a way
To let everybody know
That you're coming back
You're coming back for me..."
-Civil Twilight, "Letters From The Sky"
"And I still love the way you hurt me
It's irresistible..."
-Fall Out Boy
"Zooropa, better by design
Zooropa, fly the friendly skies
Through appliance of science
We've got that ring of confidence..."
-U2
"We'll be fighting in the streets
With our children at our feet
And the morals that they worship will be gone..."
-The Who, "Won't Get Fooled Again"
"Hello, how are you?
It's so typical of me to talk about myself
I'm sorry..."
-Adele
"How I wish, how I wish you were here
We're just two lost souls swimming in a fishbowl
Year after year..."
-Pink Floyd
"Who knows how long I've been awake now?
The shadows on my wall don't sleep
They keep calling me
Beckoning, beckoning..."
-Imagine Dragons, "Nothing Left To Say"
"So close no matter how far
Couldn't be much more from the the heart
Forever trusting who we are
And nothing else matters..."
-Metallica
"Well, the lampshade's on fire when the lights go out
This is what I really call a party now
Well, fear makes us really, really run around
This one's done so where to now?"
-Modest Mouse
"This ain't no party, this ain't no disco
This ain't no fooling around
This ain't no Mudd Club or CBGB
I ain't got time for that now..."
-Talking Heads, "Life During Wartime"
"I was caught in the crossfire of a silent scream
Where one man's nightmare is another man's dream
Pull the covers up high and pray for the morning light
Cause you're living alone in the heat of the night..."
-Bryan Adams
Bonus Track: Daft Punk, "Contact"
REVIEW:
Well, that was a long, long playlist, but this is a long, long book, and it deserves an awesomely eclectic kick-ass soundtrack to match.
I'll definitely have to check out the solo efforts Kaufman and Kristoff have put out in the past, just based on this book. But I'm sure they'll be nothing like what I've just finished reading, because this book is without a doubt the most unconventional and unique I've ever read and enjoyed this much. It's wild, and every bit as high-octane as the dust-jacket blurb suggests (for once it doesn't lie!)
And as for our main characters...I love Kady and Ezra so much. They're both so dangerous, and so human. Sure, they seem like a bit of a cliché sometimes - especially in terms of size and appearance, because she's a petite waif with pink hair (can you say, Manic Pixie Dream Girl?) and he's tall and studly and athletic - but personality-wise? They're beyond adorable. Kady's got some serious hacking skills and is quite the survivor. And Ezra is complicated in a very good way. For Kady, he's a hopeless romantic, sending her such sweet ASCII artwork. And with people like McNulty...well, some of those exchanges ("sweet...
sweet...lurrrrrve
," for instance, and "a pair of slightly sweatysomethings tickling your prettyboy chin") had me ROFLing like there was no tomorrow. Of course, there has to be some level of tragedy to balance out the comedy, and this book delivers on that front too in remarkable - and remarkably bloody - fashion, especially ramping up to an ending that would be the envy of old Ridley Scott (I know I can't be the only one who was reminded of the original
Alien
.)
And as for the story...like I said, it feels a tad bit clichéd at times, except for when it's not. And there are some seriously, seriously original plot threads to go around. At first, you think, "oh yeah, the AI's evil, he's gonna kill everyone." Or, "Wait, where else did they invent a weaponized fear virus?" (Although I have to admit, the nature of the Phobos virus, I did
not
see it coming.) And then when those plot threads are put into action, and things start going against the tropes...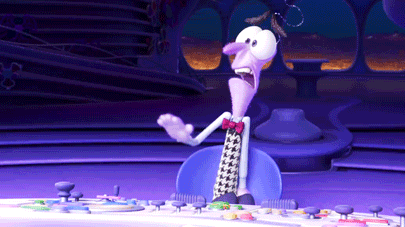 If you haven't yet read
Illuminae
, please, stop doing yourself such a disservice. Read it, and join me as we fans eagerly await next fall's sequel,
Gemina
- because we need to continue following Kady and Ezra's story ASAP.
View all my reviews